Dear Camp Ramah Families,
We are excited to share some significant updates in our summer photo and communication plans. Through feedback surveys and emails, we have heard you loud and clear: you would like to see more frequent postings of photos, an increase in quantity, and a greater variety of activities featured. Our plans are a direct response to the feedback that you have shared.
Here's what we are committed to:
Posting photos on CampMinder four times a week (an increase from twice a week)
Posting more photos on each of those days
Sending out two edah-specific updates each week via email (an increase from once a week)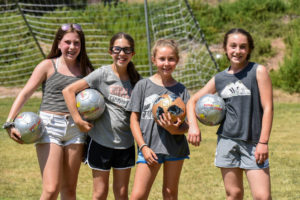 Follow us on Instagram and Facebook. You'll get a lot more insight into what's happening at camp by getting these daily updates (and you might see your camper featured there too)!
We will designated a staff member to serve as a photographer in each edah. This person will spend much of the day with their chanichim (campers) to their activities. Using embedded photographers allows us to cover a broader swath of the day for each age group. It also means that our photographer will really know the children in their age group, allowing for better coverage of campers and more natural photos.
We are sure excited about these changes and so is our staff! We'd also like to set some other realistic expectations:
We can't guarantee photos of your child every day and, occasionally not every week, but we are going to try our best.
If an edah is out on their tiyul (overnight), their photos may be reduced or delayed until their return
Be patient with us. These are transformational changes, and we are putting lots of time and effort into every last detail. Still, we know that things will unfold a bit differently than we expect and there will be a learning curve this summer.
Communications at camp are a fine balance between providing insight into the magic of camp without campers and staff feeling that they are always "on view." We hope that this change will meet that balance, and leave you feeling nostalgic for the days of summer freedom and fun!
Wishing you a wonderful end of the school year!
Rabbi Joe Menashe, Executive Director
Ariella Moss Peterseil, Camp Director
Aviva Levine Jacobs, PsyD, Director of Camper Care
Ari Polsky, Marketing & Communications Associate
Lisa Cooper, Family Relations & Outreach Coordinator